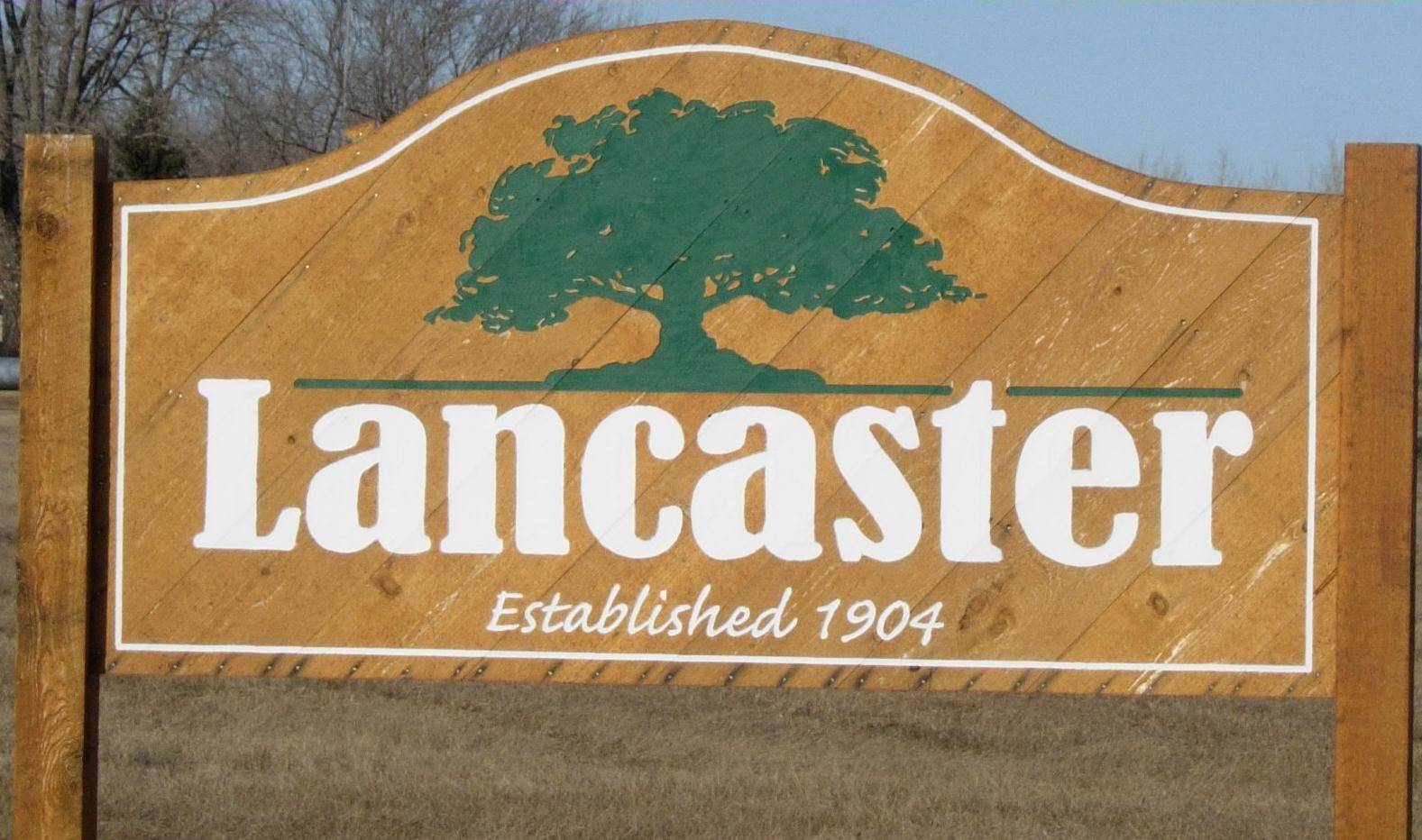 CITY OF
LANCASTER,
MINNESOTA
2017 RATES, FEES & APPOINTMENTS
Acting Mayor to act if Mayor absent: Tom Sebenaler
Fire Chief: Casey Faken $ 500.00 annual salary
Assistant Fire Chiefs: Tyler Swenson and Clifford Steyn-no annual salary
Responsibility areas: City buildings – Luke Nordin
City Services, City Employees & Equip –Jim Hilman
City Infrastructure-Tom Sebenaler
Liquor Store – Mike Olson
Park/Recreation – Shannon Bowlin
Fire Department – Michael Olson and Jim Hilman
Board Appointments: Lancaster EDA-Michael Olson & Luke Nordin
Kittson Co. Affordable Housing-Shannon Bowlin
Council PerDiems (this includes committees and other classes/meetings attended)
Mayor – $70 per mtg.
Council – $50 per mtg.
Mileage – current IRS mileage rate
Official Newspaper: Kittson County Enterprise
Official Depositories: United Valley Bank; American Federal Bank; Border State Bank and 4M Fund (MN Municipal Money Market fund)
Officials allowed to sign checks and Certificates of Deposits: Mayor, Mike Olson; Acting Mayor Tom Sebenaler and Clerk, Carol Johnson with a minimum of 2 signatures required on each check
BUILDING RENTAL RATES: See rental rates sheet below
Health Insurance maximum paid for Employee Individual coverage $375.00 per month.
Camping fees: Tent Site 15.00
Daily Electric 20.00
Weekly electric 95.00
Monthly electric 240.00 OR $1150 if paid in full by June 1st (covers May1st-Sept 30th camping season)
Permits: Peddlers daily 50.00
Beer 3.2 daily 50.00
Restaurant 3.2 Beer & Wine On-Sale Annual 250.00-effective licenses starting 1/1/2018
Off sale 3.2 Annual 250.00–effective licenses starting 1/1/2018
Clerk has approval effective each January 1 with the passing of the rates & fees schedule to pay any bills necessary to avoid late payments, receive discounts & meet payroll and all payroll expenses.
Equipment rates: Payloader $150/hr.; John Deere Tractor & 10' Rotary Mower $150/hr; John Deere Tractor & 8' Rotary Mower $12.50/hr & JD Front Mount Mower $125/hr.-Min. 1 hr. NOT FOR GENERAL HIRE. ONLY IF CITY FORCED TO DO WORK.
Insurance issues: The city does NOT waive the monetary limits on municipal tort liability established by MN Statute 466.04.
Effective 1/1/17 Water Rates: Minimum 6000 gallons and less $60.00/quarter and $6.75/each 1000 gallons used above the minimum. Sewer Rates: (Based on gallons of water used) Minimum 6000 gallons & less $60.00/quarter and $6.25/each 1000 gallon of water used above the minimum.
INDUSTRIAL PARK SPECIAL SEWER RATE (if water usage exceeds 30k) sewer rate is $18.80/1000 on all usage above 30k
Bulk Water rates $9.35/1000 Gallon-minimum of 2000 Gal/$18.70 -- New account fee $35/Hookup fee $50.00.
Meter Damages fees: $150.00 for inside water meter and $50 for outside meter reader.
Insufficient Funds Check charges are $30.00/check and will be added to the customer's water/sewer account.
Interest rate on overdue accounts 10% per annum.
Special Assessments: eff. 1/1/17: New Water Hookups $4,500.00, 20 yr. assessment with 5% interest per year & Effective 1/1/17 new Sewer Hookups $4,500.00, 20 yr. assessment with 5% interest per year. All Extensions will be reviewed by the council, and may at the councils discretion be charged higher Water & Sewer hookup fees. EXTENSIONS CAN BE DENIED.
NOTE: North Kittson Rural Water Special Assessments as applied to other city hookups also apply.
______________________________________________________________________
CITY OF LANCASTER BUILDING RENTAL RATES Effective 1/1/2017
General usage rules: No alcohol may be consumed by underage persons
No alcohol may be served unless purchased and served by Liquor Store Employees-insurance issues make this a necessity
No smoking allowed
All rented areas must be cleaned after use (except deep fryer)- Return tables to original location-Place chairs upside down on top of table-Minimum $ 50.00 will be taken from damage deposit or billed to renter if facility not cleaned.
Decorations limited to tables and floor space and Hooks provided on walls and ceiling-NO Heavy objects on Hooks.
All food brought by renter must be removed after building usage-do not use other food/condiments found in fridges
All garbage must be placed in the dumpster provided at the back of the building
Additional charges that may apply:
Damage deposit: (Community Center & Full Kitchen $100.00 Hall only $50.00) No Deposit for local nonprofits. Deposit refundable after facility inspected.
Individuals & Other Organizations

Lions/Legion/Fire/Golf & local nonprofits

Community center meeting area-NOTE if serving food $20.00 fee for kitchen serving area applies.

50.00

0.00

Coffee Machine-(use coffee provided)

10.00

5.00

Kitchen serving area-add $10 to use dishwasher

10.00

0.00

Kitchen hot prepside-Convection oven, grills, range and dishwasher (deep fryer not included) Kitchen supervisor (not a cook)included in column 1 & 2 rates ****NOTE $50.00 fee for Kitchen Supervisor if no commercial kitchen experience

100.00

30.00

Kitchen Deep fryer (includes oil & cleanup) MUST use oil provided for insurance purposes-do not remove oil from fryer

75.00

60.00

City Hall meeting room

(local nonprofits no charge i.e. 4-H, legion, lions, sr. citizens etc)

20.00

0.00

Centennial Hall -NOT AVAILABLE

Gazebo-MUST reserve with the clerk if you want guaranteed usage

No charge

No charge