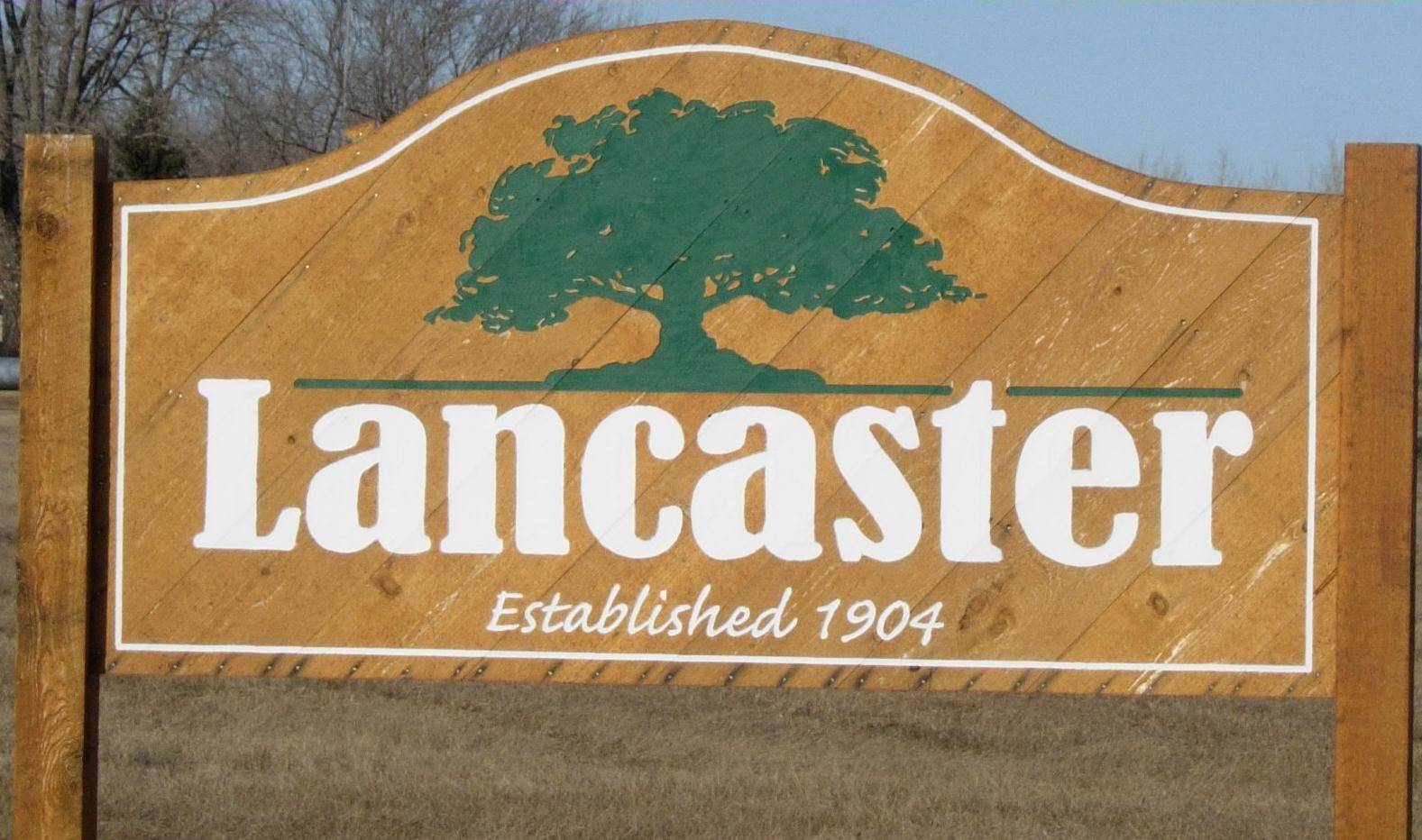 CITY OF
LANCASTER,
MINNESOTA
LANCASTER CITY COUNCIL PROCEEDINGS
The Lancaster City Council met for its Regular Meeting on Wednesday, October 12, 2022 at 7:00 P.M. The following persons were present: Mayor Mike Olson; Council members Kathy Bernstrom, John Stenquist, Luke Nordin and Faye Potrament. Also present, Dan & Jessica Stumberg and Anna Jauhola, Kittson County Enterprise reporter.
Stumbergs and the council discussed parking, safety & bus access issues on 4th Street. Bernstrom moved to establish a no parking zone on the North side of 4th street from the residence side walk at 101 4th St East westward to the alley and to establish resident only parking on the North side of 4th Street from same residence side walk to the east ending at Wisconsin Avenue, second by Potrament and carried.
Bernstrom moved to approve the September 14, 2022 Meeting Minutes, second by Stenquist and carried. A copy of the Minutes will be posted at the Lancaster City Hall and U.S. Post Office and available upon request to the clerk.
The council reviewed the October 2022 bills presented and other bills that have been paid prior to this meeting to avoid late payments, receive discounts & meet payroll and all payroll expenses as approved in the 2022 Rates Fees & Appointments Schedule. Stenquist moved to approve the bills, second by Potrament and carried. An abstract of bills will be posted with the minutes and are available upon request.
Mayor reported that he and Stenquist had reviewed the 2 land rental bids received and had given the low bidder the opportunity to raise the per acre bid by $5.00/acre over the high bid as previously approved by Council. The low bidder did not increase the bid. Potrament moved to rent the land in Poppleton township, section 7 to East Valley Dairy, LLC for $101.00/acre for a total amount of $5009.60 per year, second by Bernstrom and carried.
Anderson Sanitation has submitted a quote for 2023-2025 garbage pickup with monthly rates for household garbage pickup at $8.68/month including tax (annual rate is $100.38 including tax). Tipper cart rates are available (48 gallon cart including tax is $5.85). Nordin moved to accept the Anderson Sanitation 2023-2025 Quote and allow the Mayor to execute all documents, second by Bernstrom and carried.
Bernstrom moved to submit a $4,000.00 request to the American Legion Post #214 gambling fund for Community Center Ice Machine, second by Potrament and carried.
Bernstrom moved to submit a grant application to MN OSHA for 50% matching safety grant, total of the 3 projects (secure clerks office; outswing exit door on maintenance shop/office and confined space equipment) total cost of 3 projects $12,509.98, second by Potrament and carried.
Council discussed township fire contracts for 2023-2025, fire department's request that the contracts be increased 3% each year of the contract. Mayor set a public meeting date to discuss the contract with townships of November 30, 2022 at 7:00PM in the City Hall. Clerk will send letters to all townships within the fire department service area.
Council reviewed the city financials for September.
Other Items discussed: Fire hydrant repairs by school during MEA; meeting with US Port Director at Pembina, ND with Mayor and Acting Mayor; North Kittson Rural Water increase for 2023 is 5%.
Potrament moved to close the meeting, second by Bernstrom and carried.
Carol Johnson, Clerk/Treasurer Approved: Faye Potrament, Acting Mayor

Approval Date: November 14,2022
Other links: Lancaster Riverside Golf Course | Lancaster Public School | NW MN Multi-County HRA