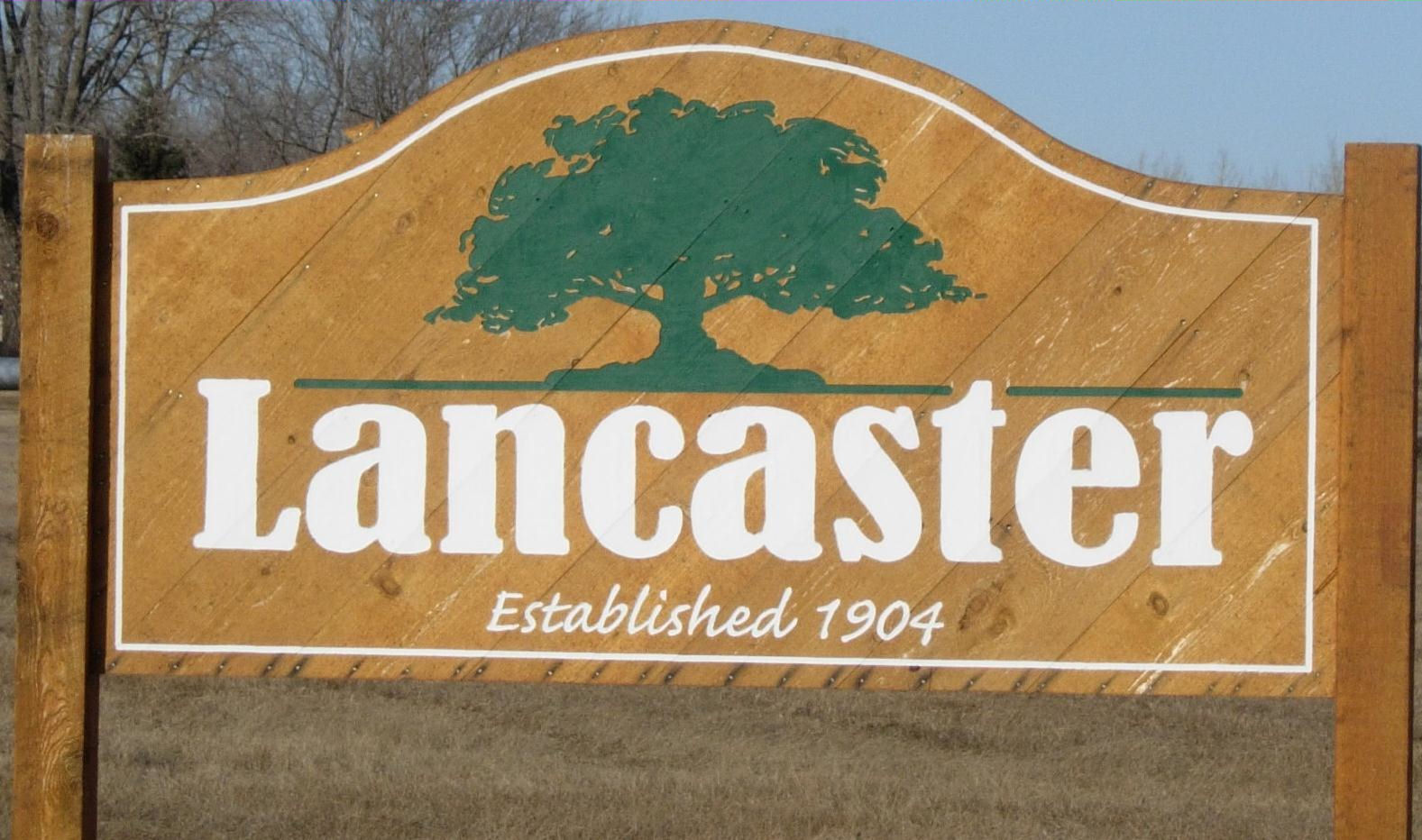 CITY OF
LANCASTER,
MINNESOTA
LANCASTER CITY COUNCIL PROCEEDINGS
The Lancaster City Council met for its Regular Meeting on Wednesday, May 15, 2019, at 7:00 P.M. in the City Hall Meeting Room. The following members were present: Mike Olson, Faye Potrament; Jim Hilman, Kathy Bernstrom, Luke Nordin.
Potrament moved to approve the Council minutes of the April 10, 2019 regular meeting second by Bernstrom and carried. A copy of the Minutes will be posted at the Lancaster City Hall and U.S. Post Office and available upon request to the clerk.
The council reviewed the May 2019 bills presented this night; any other bills that have been paid prior to this meeting to avoid late payments, receive discounts & meet payroll and all payroll expenses as approved in the 2019 Rates Fees & Appointments Schedule. Hilman moved to approve the bills, second by Nordin and carried unanimously. An abstract of bills will be posted with the minutes and are available upon request to the clerk.
Council reviewed the updated employee job descriptions. Nordin moved to approve the job descriptions, second by Bernstrom and carried.
Clerk reported that Clifford Steyn has applied to have his leave of absence from the fire department end as of May 31, 2019. Hilman moved to end the leave of absence and place Steyn on the active role of the fire department as of June 1, 2019, second by Potrament and carried.
Council review Matthew Anderson's fire department application. Potrament moved to hire Anderson effective June 1, 2019 as a fireman, second by Bernstrom and carried.
Council discussed that another fire department application was received after Matthew Anderson's and that at this time there are no additional openings and the clerk was directed to hold any new applications received for future openings in the fire department.
Council discussed updating the council/employee travel policy and moving the reimbursement rates for hotel and meals to the annual rates and fees schedule. This will be tabled until the January meeting.
Council discussed correspondence from Attorney, Jeff Hane, regarding need for city to reinstate transfer of property that occurred May 23, 1995. This is due to a change in title standards in recent years. Bernstrom moved to approve Resolution 2019-3 Confirming Sale of Land, second by Hilman. Voting in favor Bernstrom, Hilman and Olson. Abstaining Nordin and Potrament.
Nordin estimated that the cost of putting 2 snow guards on the south facing roof of the Liquor Store/City Hall would be $613.26. Bernstrom moved to accept the quote, second by Potrament and carried. Hilman abstained.
Council discussed that a group is currently working on possible fundraiser for playground equipment at the sports complex and that the council is interested in supporting the effort and will put the shade canopy on hold at this time.
Council discussed cleaning out the old firehall storage building. Potrament moved to allow Nordin to list on the Kittson County for sale website the Liquor Store autofry for $1,000 and microwave $100 with any lessor offer to need further approval, second by Bernstrom and carried. Bernstrom moved that any other items deemed unworthy of salvage by Hilman in the building and the playset at the sports complex be taken to the landfill, second by Potrament and carried.
Roxanne Kulyk met with the council to request a $12,000.00 revolving loan for weatherization and exterior upgrades to her restaurant. The loan review summary by Northwest Regional Development Co. was given to the council and Kulyk. The council reviewed and discussed the request with Kulyk. Hilman moved to loan Roxanne Kulyk and Lynette Steyn in the amount of $12,000.00 at 3% interest, monthly payments for 8 years with Kulyk paying 1% loan fee plus and disbursements; the city will have a 2nd position on all equipment and a 2nd mortgage on the restaurant building; with a personal guarantee from Roxanne Kulyk. Kulyk must add this loan to her life insurance and fire insurance that the city is already a named insured upon, second by Bernstrom and carried.
Council also reviewed Council reviewed the April 2019 City and Liquor Store financial information.
Nordin presented an estimate from Carr Landscaping & Const. of $4,376.50 for Patio rework at the Highway 59 Park. This would include tree removal; rework of the flower bed and straightening of the wall. Council discussed that instead of an ornamental tree that some sort of no maintenance alternative would be more appropriate. Nordin moved to accept the quote with the change out of the tree difference not to exceed the total overall cost of $4,500.00, second by Potrament and carried.
Council discussed the Highway 59 campground and that there are some campsite areas that need to be cleaned up around. Motion by Bernstrom to add to Campground rules that all sites should be clean and neat with only a small wood pile and that council will review site appearance, second by Hilman and carried.
Clerk notified council that she would attend a clerk training May 23rd in Badger and Regional Safety Group meeting May 31st in Greenbush. And also asked if any council could attend the Regional Safety Group.
Council discussed possible fit for duty standards for the fire department.
As there was no further business the council adjourned.
Carol Johnson, Clerk/Treasurer Approved: Mike Olson, Mayor
Approval Date: 6/12/2019
Other links: Lancaster Riverside Golf Course | Lancaster Public School